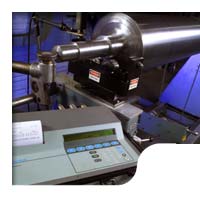 Balancing:
Computer controlled state of the art. We dynamically balance rolls to the demanding standards of the World's fastest processing lines. Balancing program - Send us your rolls, we'll check and re-balance for maximum performance.
Roll Stocking:
We will build and stock larger quantities of rolls for you to take on a scheduled basis. Take advantage like many of our customers have of volume pricing discounts, faster delivery and peace-of-mind knowing you won't get caught empty handed.
Roll-Reworking:
Fully equipped to refurbish existing rolls back to first class condition or repair broken rolls.
Want More Information?
Weld Overlay Service:
Many diverse alloys are available to enhance the working surface and life cycle of rolls. Barclay can build up both new and used rolls.
Want More Information?
Components:
Barclay furnishes and assembles all related components such as bearing housings, blocks, chocks, drives, coupling and gears.
Capabilities:
Turning to 85" diameter x 27' long. Boring, milling, internal keywaying. Crane capacity to 25 ton 200 ton horizontal wheel press.