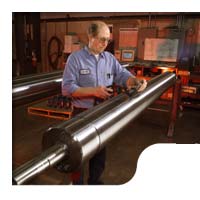 The cornerstone of our hundred-year tradition is our quality. Accuracy, integrity and traceability are proof positive of Barclay "Setting the Standard".
The following supports our control of quality:
Quality Control System - Written standards and procedures that govern how we operate and control our operation.
Communication - Understanding the importance of excellence.
Inspection - In process and final. Thorough, accurate and reliable.
Calibration Program - Inspection equipment is held to the highest accuracy.
Safety committee - Safe working conditions mean people can focus on quality.
A.W.S. Certified Welders - Carefully trained welding today's diverse alloys.
Testing Services - Ultrasonic, Dye Penetrant, X-Ray, Mag. Particle, Profilometer, Hardness, Pressure.
Traceability - Every roll with its records is assigned a serial number when construction begins and is traceable to it years later.